Source:Getty Images
Feeder Cattle Futures---Feeder cattle futures in the August contract is currently trading lower by 40 points at 133.10 reversing earlier gains as prices traded as high as 135.67 as we continually trade within a tight trading range over the last 8 weeks.
If you take a look at this chart and the live cattle chart they are almost identical as I'm keeping a close eye on both cattle markets as my break out rule states that the longer the consolidation the more powerful the breakout becomes as this will break out soon in my opinion, but I just don't know in what direction.
Feeder cattle is trading right at its 20 and 100 day moving average as the trend is mixed, however I still have a bearish bias and if prices break the 128.67 level I will be recommending a bearish trade, however you have to remember this is a highly volatile trade as we had a 500 point range over the last 2 days which equals $2,500 if you're on the wrong side of the trade.
If you take this trade make sure that you only risk 2% of your account balance on any given trade as the proper money management technique as we could be involved any day.
TREND:MIXED
CHART STRUCTURE: EXCELLENT
VOLATILITY: INCREASING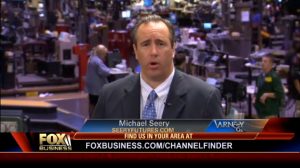 If you are looking to contact Michael Seery (CTACOMMODITY TRADING ADVISOR) at 1-630-408-3325 I will be more than happy to help you with your trading or visit www.seeryfutures.com
TWITTER---@seeryfutures
Email: mseery@seeryfutures.com
If youre looking to open a Trading Account click on this link www.admis.com
There is a substantial risk of loss in futures and futures options. Furthermore, Seery Futures is not responsible for the accuracy of the information contained on linked sites. Trading futures and options is Not appropriate for every investor.