Live Cattle Futures---Live cattle futures in the February contract is trading lower for the 4th consecutive session down 0.97% or 125 points at 125.40 as prices have now hit a 1 week low and if you have been following any of my previous blogs you understand that I think a top has been formed as I'm looking at a possible short position soon.
If prices close below 123.12 I will be recommending a short position while placing the stop loss above the contract high which was hit last Friday at 127.15 as the risk would be around $1,700 per contract plus slippage and commission as I do believe the risk / reward is in your favor.
Cattle prices are now trading under their 20-day but still far above their 100 day moving average as we are still about 20% higher from the low hit on September 9th low around the 105 level, but everything comes to an end as I think prices look expensive especially compared to hogs.
Wait for the breakout to occur as trading in a choppy sideways market is very dangerous and unsuccessful over the course of time as I would rather sell it at a lower price therefor the breakout has occurred as then the odds of the trend changing have increased as this could possibly happen in tomorrow's trade so be nimble.
TREND: MIXED
CHART STRUCTURE: EXCELLENT
VOLATILITY: INCREASING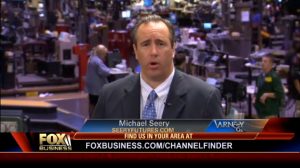 If you are looking to contact Michael Seery (CTACOMMODITY TRADING ADVISOR) at 1-630-408-3325 I will be more than happy to help you with your trading or visit www.seeryfutures.com
TWITTER---@seeryfutures
FREE TRIAL FOR THE LIMIT UP COMMODITY NEWSLETTER
Email: mseery@seeryfutures.com
If youre looking to open a Trading Account click on this link www.admis.com
There is a substantial risk of loss in futures and futures options. Furthermore, Seery Futures is not responsible for the accuracy of the information contained on linked sites. Trading futures and options is Not appropriate for every investor.