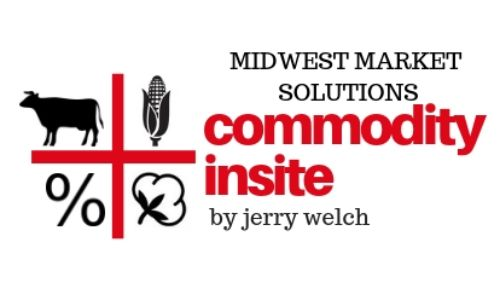 Jerry Welch, Commodity Insite!
Call me at 406 -682 -5010
Ennis, Montana 59729
Follow me on twitter@commodityinsite
Below is a chapter entitled, The Year Without A Summer from my book, Haunted By Markets. I penned the column below on April 23, 2010. Hope you find something of interest in what I wrote back then.
---------------------------------------------------------------------------------
The Year Without A Summer
When news the Icelandic volcano Eyjafjallajkull erupted, grain prices spiked upward out of fear the tremendous cloud of fine ash and dust would insulate Europe from the light and heat of the sun causing a severe drop in temperature leading to crop failures. The marketplace feared a repeat of 1816, known to many as, the year without a summer.
Here are few comments from the Discovery Channel about that tragic year, 20 long decades ago:
**During the summer of 1816, unexpected climate changes left countries in the Northern Hemisphere suffering from devastating famine and epidemic outbreaks. These weather patterns were the result of the volcanic eruption of Mount Tambora in Sumbawa, Indonesia, on 10th April 1815.
**Over the following year, heavy ash-fall filled the air across the globe, preventing sunrays from reaching the earth. The resulting frost and rains devastated crops and caused the Year without Summer.
**The death toll outside Indonesia ran into hundreds of thousands. With the 117,000 victims who died in the original cataclysm in Indonesia, this was one of the deadliest disasters in history.
**There were few warning signs when Mount Tambora erupted on 10 April 1815. What people thought were the sounds of cannons were heard 1,000 miles away five days earlier. The Farmers Almanac offers these observations about the year without a summer.
**Referred to by many names, including the poverty year and eighteen hundred and froze-to death, the year 1816 was literally a year without a summer across much of the Northern Hemisphere. Throughout not only North America, but also Northern Europe and parts of Asia, an exceptionally cold summer, featuring killing frosts in July and August, crippled food production. Crop failures and food shortages were so widespread that rioting and looting became common in the United Kingdom and France.
**On this side of the Atlantic, many residents of New England and the Canadian Maritimes froze to death, starved, or suffered from severe malnutrition as stormsbringing a foot or more of snow hit hard during May and June. In fact, the year without a summer is now believed to have been one major catalyst in the westward expansion of the United States.
**On July 4th of that year, for instance, the high temperature in Savannah, Georgia was a chilly 46 F. As far south as Pennsylvania, lakes and rivers were frozen over during July and August.
** In Asia and India, the monsoon season was heavy and they experienced unusually low temperatures plus frost. Rice production was drastically reduced which resulted in famine in China. Snow fell in higher elevations in countries where snow does not normally exist. Southern India suffered a cholera epidemic and it is believed to be linked with the unusual weather conditions in 1816.
According to the Associated Press, the eruption of Eyjafjallajkull could trigger an even more dangerous eruption at the nearby Katla volcano. The two volcanoes sit 12 miles apart and thought to be connected by a network of magma channels. AP, stated, though Katla shows no signs of activity, the last three times that Eyjafjallajkull erupted, Katla did as well. Katla blows every 80 years, having last exploded in 1918.
In agriculture, nothing changes the delicate balance between surplus or scarcity more startling than the weather. But history also shows that erupting volcanoes spewing heavy clouds of ash that block the warm rays of the sun can also impact grain and livestock production. American farmers and ranchers would be wise to keep a close eye on Eyjafjallajkull and Katla in the months ahead.
And to those that pronounce Eyjafjallajkull properly without sounding as if marbles are rolling around in your mouth, I salute you!
-----------------------------------------------------------------------------
My weekly column this week is entitled, Dodging A Bullet In 2020. And here is the final paragraph:
"American and global agricultural has dodged a bullet regarding drought-like conditions for 20 of the past 22 years and for 5 of the past years in a row. I do not believe another bullet can be dodged. I am guessing that the next 4 months have more downside potential than upside for the US ag-markets. But sometime in late February the markets and prices will carve out a meaningful low and turn higher. It all depends on Mother Nature."
My weekly newspaper column such as the one above is sent each week to those subscribe to my twice a day newsletter, Commodity Insite, to my brokerage clients and to those that recently bought my book, Haunted By Markets that automatically receive my newsletter for free for 1 month. Yes, free.
If you have a question I can help with drop me a line at commodityinsite1@gmail.com. Or, call me at 406 682 5010. Always remember there is no substitute for timely and accurate information. And the rest of the column, Dodging A Bullet In 2020 will be posted here on Inside Future in the near future. Stay tuned!
This material has been prepared by a sales or trading employee or agent of Midwest Market Solutions and is, or is in the nature of, a solicitation. This material is not a research report prepared by Midwest Market Solutions Research Department. By accepting this communication, you agree that you are an experienced user of the futures markets, capable of making independent trading decisions, and agree that you are not, and will not, rely solely on this communication in making trading decisions.
DISTRIBUTION IN SOME JURISDICTIONS MAY BE PROHIBITED OR RESTRICTED BY LAW. PERSONS IN POSSESSION OF THIS COMMUNICATION INDIRECTLY SHOULD INFORM THEMSELVES ABOUT AND OBSERVE ANY SUCH PROHIBITION OR RESTRICTIONS. TO THE EXTENT THAT YOU HAVE RECEIVED THIS COMMUNICATION INDIRECTLY AND SOLICITATIONS ARE PROHIBITED IN YOUR JURISDICTION WITHOUT REGISTRATION, THE MARKET COMMENTARY IN THIS COMMUNICATION SHOULD NOT BE CONSIDERED A SOLICITATION.
The risk of loss in trading futures and/or options is substantial and each investor and/or trader must consider whether this is a suitable investment. Past performance, whether actual or indicated by simulated historical tests of strategies, is not indicative of future results. Trading advice is based on information taken from trades and statistical services and other sources that Midwest Market Solutions believes are reliable. We do not guarantee that such information is accurate or complete and it should not be relied upon as such. Trading advice reflects our good faith judgment at a specific time and is subject to change without notice.There is no guarantee that the advice we give will result in profitable trades.