Orange Juice Futures---Orange juice futures in the September contract is currently trading higher by 45 points at 99.25 as this market has been stuck in the mud over the last 9 weeks despite the fact that prices are near a 3 month low.
I have been recommending a bearish position from the 98.50 level and if you took that trade continue to place the stop loss above the 2 week high which stands at 103.80 as an exit strategy as the chart structure is outstanding at the present time due to the incredibly low volatility.
Juice prices are still trading under their 20 and 100 day moving average as the trend remains to the downside, however for the bearish momentum to continue we're going to have to break the August 5th low of 95.25 in my opinion.
Fundamentally speaking weak demand and ideal growing conditions in the State of Florida and the country of Brazil continue to hamper prices, but we need some fresh fundamental news to pick up volatility to the downside. I will stay short and continue to place the proper stop loss as I still think prices will test the contract low which was hit on May 6th at 94.40 possibly in this week's trade.
TREND: LOWER
CHART STRUCTURE: EXCELLENT
VOLATILITY: LOW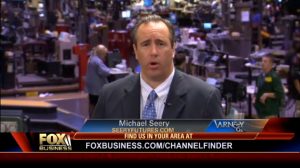 If you are looking to contact Michael Seery (CTACOMMODITY TRADING ADVISOR) at 1-630-408-3325 I will be more than happy to help you with your trading or visit www.seeryfutures.com
TWITTER---@seeryfutures
FREE TRIAL FOR THE LIMIT UP COMMODITY NEWSLETTER
Email: mseery@seeryfutures.com
If youre looking to open a Trading Account click on this link www.admis.com
There is a substantial risk of loss in futures and futures options. Furthermore, Seery Futures is not responsible for the accuracy of the information contained on linked sites. Trading futures and options is Not appropriate for every investor.