S&P 500 Futures---The S&P 500 in the September contract finished up another 7 points at 2933 continuing its bullish momentum reacting positive off of the Federal Reserve's announcement that they did not lower interest rates, but they certainly are supporting the U.S economy and the stock market as it does not look like they will raise rates anytime soon.
The S&P 500 is trading above its 20 and 100 day moving average as the trend is higher as I will be looking at a bullish position possibly in next weeks trade as I'm just waiting for the chart structure to improve, but if you are long a futures contract stay long as I see no reason to be short as all time highs should be reached in my opinion very soon.
The 10 year note yield currently stands at about 2.06% as I have a bullish recommendation in that market as that has definitely helped push stock prices higher as lower interest rates coupled with an excellent U.S economy is the perfect soup to push prices to all-time highs as I see no reason to be short this sector.
TREND: ----HIGHER
CHART STRUCTURE: SOLID
VOLATILITY: AVERAGE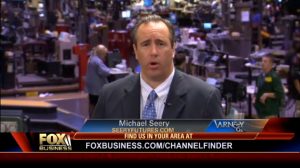 If you are looking to contact Michael Seery (CTACOMMODITY TRADING ADVISOR) at 1-630-408-3325 I will be more than happy to help you with your trading or visit www.seeryfutures.com
TWITTER---@seeryfutures
FREE TRIAL FOR THE LIMIT UP COMMODITY NEWSLETTER
Email: mseery@seeryfutures.com
If youre looking to open a Trading Account click on this link www.admis.com
There is a substantial risk of loss in futures and futures options. Furthermore, Seery Futures is not responsible for the accuracy of the information contained on linked sites. Trading futures and options is Not appropriate for every investor.