As seen on Bloomberg, Refinitiv (Thomson Reuters), Factset, Interactive Brokers, Amazon,Liquid (Quoine) ,EXMO and Zerohedge, Tradable Patterns (https://tradablepatterns.com) provides daily technical analysis on a subset of three CME/ICE futures (commodities, equity indices), spot FX markets, which it considers worth monitoring for the day/week for trend reversal or continuation, along with a separate weekly technical analysis newsletter on Bitcoin (BTCUSD), Ethereum (ETHUSD) and Ripple (XRPUSD or XRPJPY). For less experienced traders, tutorials and workshops are offered online and throughout Southeast Asia.
Bitcoin (BTCUSD) is resuming its uptrend after spending the first 2 weeksof H219 consolidating in the ~7500-8500 range, with BTCUSD bulls now eyeing the next major psychologically key whole figure level of 10k. Although overbought on the weekly and daily Stochastics, the upsloping weekly MACD suggests any dip this week towards uptrend/ascending wedge support (on the daily chart) will quickly attract bulls...Click herefor the rest of today's technical and fundamental analysis on Bitcoin, Ethereum and Ripple.
Bitcoin (BTCUSD) Weekly/Daily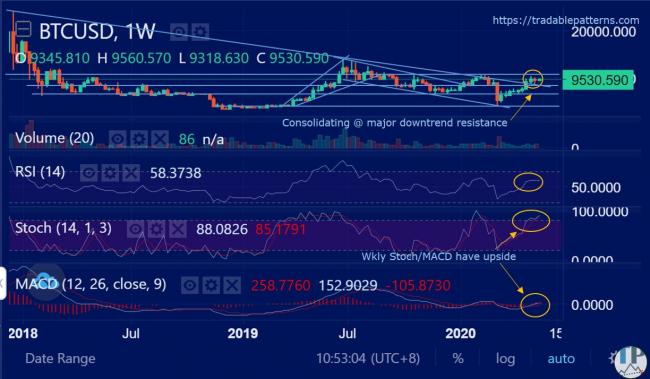 Donations:
3PySoWSwuEF1qnKyEWDbxXPPmHu7QKWWEG
Today's Top 3 Trades, Crypto Weekly Outlook and all other Tradable Patterns content do not constitute an advisory and do not make recommendations, but can supplement your own analysis. Please do your own due diligence ahead of any trades.