10 Year Note---The 10 year note in the September contract is currently trading higher by 8 ticks at 127 /01 continuing its bullish momentum as there are still major concerns of an economic slowdown which I really don't understand as the U.S economy is firing on all cylinders, but the trend is your friend and that's why I've been bullish.
I have been recommending 2 bullish positions with an average price originally in the June contract at 124 / 25 and if you took that trade the stop loss now stands at 126/02 and in Friday's trade that will be raised possibly to 126 /15 as the chart structure is outstanding as we have gone sideways over the last 7 trading sessions improving the chart structure.
The 10-year note is trading above its 20 & 100 moving average as this trend is strong and I still think higher prices ahead so continue to play this to the upside while placing the proper stop loss as the chart structure will become outstanding therefor the monetary risk will be lowered.
The Federal Reserve most likely is going to lower interest rates in the coming months ahead as many foreign currencies have negative interest rates as the 10-year note is still trading at 2.12% as that looks very impressive compared to other investment opportunities.
TREND: ----HIGHER
CHART STRUCTURE: EXCELLENT
VOLATILITY: AVERAGE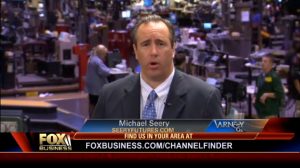 If you are looking to contact Michael Seery (CTACOMMODITY TRADING ADVISOR) at 1-630-408-3325 I will be more than happy to help you with your trading or visit www.seeryfutures.com
Skype Address: 5da1f85979b7117b
TWITTER---@seeryfutures
FREE TRIAL FOR THE LIMIT UP COMMODITY NEWSLETTER
Email: mseery@seeryfutures.com
If youre looking to open a Trading Account click on this link www.admis.com
There is a substantial risk of loss in futures and futures options. Furthermore, Seery Futures is not responsible for the accuracy of the information contained on linked sites. Trading futures and options is Not appropriate for every investor.