Coffee Futures---Coffee futures in the July contract is trading higher for the 4th consecutive session currently trading at 102.70 a pound after settling last Friday in New York at 93.30 all on concerns about heavy rains and a possible frost hurting production numbers in the country of Brazil.
I have been recommending a bullish position from around the 95.80 level and if you took that trade continue to place the stop loss under the contract low and 14 year low at 87.60 as an exit strategy, however I will raise the stop in next week's trade therefor the monetary risk will be lowered.
Coffee prices are now trading above their 20 and 100 moving average telling you that the trend has shifted to the upside as we enter the volatile possible frost season in the country of Brazil as that could send prices sharply higher so continue to play this to the upside as I still think prices will test the 110 level in the coming days ahead.
The chart structure at the present time is terrible due to the fact that prices have run up that rather quickly however next week that situation will improve and if you did not take the original recommendation wait for some type of price decline before entering as prices might be experiencing overbought conditions.
TREND: ----HIGHER
CHART STRUCTURE: POOR
VOLATILITY: INCREASING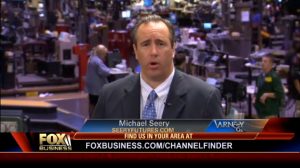 If you are looking to contact Michael Seery (CTACOMMODITY TRADING ADVISOR) at 1-630-408-3325 I will be more than happy to help you with your trading or visit www.seeryfutures.com
Skype Address: 5da1f85979b7117b
TWITTER---@seeryfutures
FREE TRIAL FOR THE LIMIT UP COMMODITY NEWSLETTER
Email: mseery@seeryfutures.com
If youre looking to open a Trading Account click on this link www.admis.com
There is a substantial risk of loss in futures and futures options. Furthermore, Seery Futures is not responsible for the accuracy of the information contained on linked sites. Trading futures and options is Not appropriate for every investor.