Soybean Meal Futures---Soybean meal futures in the July contract is currently trading at 296.50 down 180 points as it looks like the trade war with China is escalating as I still think lower prices are ahead.
If you take a look at the daily chart there is a descending triangle pattern starting to develop as that is a bearish technical indicator as I have been recommending 2 bearish positions with an average price of 299.00 & if you took that trade we're going to continue to place the stop loss at 305.00 on a hard basis only.
For the bearish momentum to continue prices have to break the May 21st low of 293 in my opinion as I still think the excessive wet weather in the Midwestern part of the United States is bearish towards soybeans not bullish.
Soybean meal is trading below its 20 and 100 day moving average as the trend remains negative as the volatility certainly has exploded over the last couple of weeks and that's going to continue throughout the summer months as there's so much uncertainty surrounding the 2019 crop so continue to stay short.
TREND: ---LOWER
CHART STRUCTURE: EXCELLENT
VOLATILITY: HIGH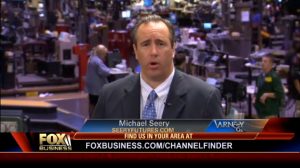 If you are looking to contact Michael Seery (CTACOMMODITY TRADING ADVISOR) at 1-630-408-3325 I will be more than happy to help you with your trading or visit www.seeryfutures.com
Skype Address: 5da1f85979b7117b
TWITTER---@seeryfutures
FREE TRIAL FOR THE LIMIT UP COMMODITY NEWSLETTER
Email: mseery@seeryfutures.com
If youre looking to open a Trading Account click on this link www.admis.com
There is a substantial risk of loss in futures and futures options. Furthermore, Seery Futures is not responsible for the accuracy of the information contained on linked sites. Trading futures and options is Not appropriate for every investor.