Soybean Meal Futures---Soybean meal futures in the July contract is currently trading at 298.00 after settling last Friday in Chicago at 287.30 rallying sharply on concerns about delayed soybean planting as we are experiencing extremely wet and cold temperatures in the midwestern part of the United States.
I have been recommending a bearish position from around the 302 level and if you took that trade continue to place the stop loss at the 305.5 level as the risk/reward is in your favor in my opinion. If the wet weather continues that will mean more acres will go into soybeans which is bearish the entire complex so stay short as I still think there's room to run to the downside as this rally was based on massive short covering by the large funds.
At the current time large money manage funds are still short 32,000 contracts as they are also short heavily across the entire grain market as I will be looking at a possible counter trend trade in corn soon, but there could be a little more room to run.
Volatility in meal will remain extremely high for the rest of the summer months so make sure you place the stop loss on a hard basis only as I'm not willing to risk anything higher than the 305.5 level.
TREND: ---LOWER
CHART STRUCTURE: EXCELLENT
VOLATILITY: HIGH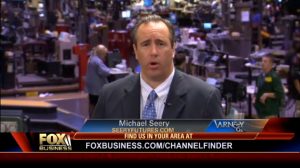 If you are looking to contact Michael Seery (CTACOMMODITY TRADING ADVISOR) at 1-630-408-3325 I will be more than happy to help you with your trading or visit www.seeryfutures.com
Skype Address: 5da1f85979b7117b
TWITTER---@seeryfutures
FREE TRIAL FOR THE LIMIT UP COMMODITY NEWSLETTER
Email: mseery@seeryfutures.com
If youre looking to open a Trading Account click on this link www.admis.com
There is a substantial risk of loss in futures and futures options. Furthermore, Seery Futures is not responsible for the accuracy of the information contained on linked sites. Trading futures and options is Not appropriate for every investor.