Soybean Futures---Soybean futures in the July contract finished higher by 4 cents at 8.35 a bushel selling off from session highs at the 8.48 level as massive short-covering is taking place as the large money managed funds are offsetting some of their record short positions.
At the current time I'm now recommending a short position from around the 8.35 level while placing the stop loss above today's high of 8.48 as the risk is around $650 per contract plus slippage and commission as I think the risk/reward is in your favor as this rally is exaggerated to the upside in my opinion.
Soybean prices traded as low as 7.91 in Monday's trade as we experienced about a 60 cent rally as you have to remember the excessive rain that we received in certain parts of the midwestern United States will cause farmers to switch from growing corn to soybeans as the fundamental and technical picture for this commodity remains negative. As I wrote about in yesterday's blog there was a price gap that was created between 8.36 / 8.40 and that was filled in today's trading action before selling off near the closing bell so play this to the downside while risking 2% of your account balance on any given trade.
The volatility in soybeans will increase substantially and will become very violent over the summer months so make sure that you understand the risk going forward as the weather will certainly dictate short term price action.
TREND: LOWER
CHART STRUCTURE: EXCELLENT
VOLATILITY: HIGH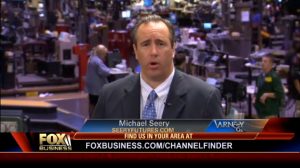 If you are looking to contact Michael Seery (CTACOMMODITY TRADING ADVISOR) at 1-630-408-3325 I will be more than happy to help you with your trading or visit www.seeryfutures.com
Skype Address: 5da1f85979b7117b
TWITTER---@seeryfutures
FREE TRIAL FOR THE LIMIT UP COMMODITY NEWSLETTER
Email: mseery@seeryfutures.com
If youre looking to open a Trading Account click on this link www.admis.com
There is a substantial risk of loss in futures and futures options. Furthermore, Seery Futures is not responsible for the accuracy of the information contained on linked sites. Trading futures and options is Not appropriate for every investor.