Summary
USDCAD:Dollar/CAD is up strongly this morning as the broader USD spikes higher following a dramatic 14% collapse in the Turkish lira overnight. More here: https://www.businessinsider.com/turkish-lira-hits-fesh-low-against-dollar-amid-fears-of-european-contagion-2018-8. While the economic crisis in Turkey and uptrend in USDTRY is nothing new, the big development overnight was an FT report about the ECB fearing contagion for some European banks. EURUSD broke chart support in the 1.1520-30s, emerging markets went offered, global equities got sold, developed market bond yields ticked lower, the JPY went broadly bid, and all of a sudden traders were rushing for the USD across the board in a risk-off type manner. USDCAD has shot up to a trend-line resistance zone in the 1.3090-1.3125 area (the same area that capped trade on Wednesday following the Saudi Arabia sell Canada headlines) and the market has stalled for the time being. All eyes are now on Turkeys President Erdogan, who is expected to speak shortly. Then well get US July CPI and the July Canadian Employment Report at 8:30amET. For CPI, traders are expecting +2.9% YoY, +2.3% on core, and +0.2% MoM. Markets are expecting +17k for Canadian jobs, 5.9% in the UR and +3.6% YoY growth in wages. September crude oil is bouncing strongly off trend-line support in the low 66 handle this morning. A move back up to $68 would be a negative headwind for USDCAD.

EURUSD:Euro/dollar is getting crushed to new swing lows this morning as the world flocks to the relative safety of the USD today in light of whats going on in Turkey. German bond yields are down strongly while Italian/Spanish yields are trading higher as the ECB (according to the FT) is concerned notably about BBVA, Unicredit and BNP Paribas (another EURUSD negative). Trend-line support in the 1.1470s has given way today, but the follow through lower has been limited, which leads us to believe traders might try to ultimately regain the level should Erdogan calm markets down. TRY pared its losses, down 8% for the day when we starting typing, but it is starting to weaken once again as Erdogan begins speaking with a defiant tone (-11%). USDCNH is mildly bid, following the broader USD theme today.
GBPUSD: Sterling continues to get hammered amid the broad USD strength today, but todays half decent raft of UK economic figures around the 4am hour is helping to forge a bottom on the GBPUSD chart. UK Q2 GDP was reported at 1.3% (in-line with estimates). UK Industrial Production and Manufacturing Production figures for June beat expectations (+1.1% YoY vs +0.7% expected for the former and +1.5% YoY vs +1.0% expected for the latter). The UK trade deficit for June was reported smaller than expected. Support today lies at the 1.2730s, while resistance comes in at the 1.2780s. EURGBP is trading steady after plunging below 0.8950 earlier but then bouncing back.
USDJPY: Dollar/yen is trading with a neutral tone this morning as the competing safe haven flows of buy JPY and buy USD sort of offset themselves today. Japan reported better than expected Q2 GDP overnight, but the deflator (inflation gauge) disappointed. Yesterdays rally above 111 lost steam on some negative North Korea headlines and the 2nd rally attempt stalled in Asia after the Japanese GDP beat, but the markets ability to hold trend-line support in the mid 110s is impressive and should lead to some short covering here in our opinion should the risk off tone calm down.
Tune in @EBCTradeDesk for more real-time market coverage.
---

Exchange Bank of Canada (EBC)'s international payment services are supported by its trading desk offering a value-added service clients can leverage in an effort to add value to their firms tradingplan.
https://www.ebcfx.com/contactus?utm_medium=partnerships&utm_source=inside-futures&utm_campaign=market-commentary&utm_term=create-custom-plan
---
Market Analysis Charts
USD/CAD Daily Chart
USD/CAD HourlyChart
September Crude Oil Daily Chart
EUR/USD Daily Chart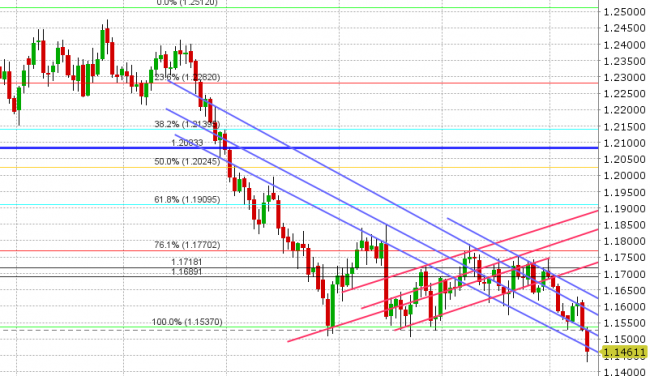 EUR/USD Hourly Chart
USD/TRY Daily Chart
GBP/USD Daily Chart
GBP/USD Hourly Chart
EUR/GBP Daily Chart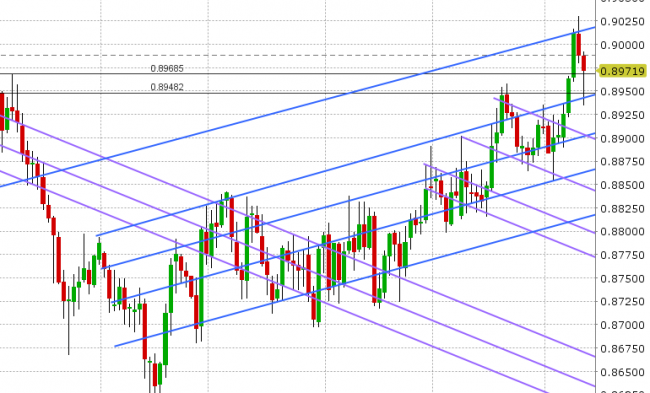 USD/JPY Daily Chart
USD/JPY Hourly Chart
EUR/JPY Daily Chart

---
Erik Bregar - Director, FX Trading
Exchange Bank of Canada
Toronto, Ontario
Phone:888-729-9716
Interested in creating a custom foreign exchange trading plan?
https://www.ebcfx.com/contactus?utm_medium=partnerships&utm_source=inside-futures&utm_campaign=market-comm