Summary
CME OPEN INTEREST CHANGES 12/5: AUD +4988, GBP -1760, CAD -110, EUR +6461, JPY +1871

---

USDCAD:Its all about the Bank of Canada today for USDCAD traders. The market managed to regain the 1.2660s in yesterdays trade, which was technically positive. The 1.2700 capped gains overnight and were now testing the 1.2660s from the upside. Markets are expecting no change on interest rates today but the focus will be on the Bank of Canadas tone, especially in light of the strong Canadian employment figures reported last Friday. US/CAD 2s are steady at 27bp. The CAD put bias in risk reversals has eased since Friday. Cross flows from EURCAD and GBPCAD are dragging USDCAD lower again today, with the former now testing important support at 1.4950 and the latter now breaking below trend-line support in the 1.6960-70. The Bank of Canada announcement is at 10amET. The 1.2660s is the key level to watch again today. Next support 1.2590s. There are a series of resistance levels today, clumped together between 1.2740 and 1.2770.

AUDUSD:Its been nothing but bad luck for Aussie traders since our commentary yesterday. The large option expiry at 0.7645 had its magnetic effect early yesterday and then copper and iron ore prices started to plunge. AUDUSD traders made no concerted attempt to challenge resistance at 0.7650 once again and instead tracked copper lower for the rest of the day. Not even the weaker than expected read from the US non-manufacturing ISM helped. In overnight trade, Australian Q3 GDP came in lighter than expected (+2.8% YoY vs. +3.0%), and that further dampened the mood. AUDUSD now sits back below key resistance (0.7610-0.7620), which is negative but it has found some support at the 0.7570s (trend-line support). The AU/US 2yr yield spread has gone negative, now at -3bp, and that continues to be a drag on AUDUSD. It will more than likely be a range trade today unless base metals continue falling or the US ADP figures give us a surprise (out at 8:15amET).

EURUSD:Euro/dollar eased lower yesterday, but it was nothing to write home about. Its been a quiet week for market moving data and so a lot of the movement has been influenced by EURGBP and EURJPY flows. The fact that the US/GE 10yr yield spread still sits comfortably above 200bp continues to be a drag. Reuters is also reporting sizable option expiries today (1.75bln EUR between 1.1800-1.1825), which seem to be having their usual magnetic effect. Technically speaking, EURUSD is trading at key support right now (1.1810). Next support 1.1780s, then 1.1750s. Resistance today comes in at 1.1850. Note the Sunday opening gap (1.1880-1.1900) is still unfilled. Traders will be focused on the US ADP jobs figures at 8:15amET today, as a potential preview of what US payrolls will be on Friday.

GBPUSD:All the Brexit resolution excitement that we saw leading into Mondays UK/EU meeting seems to be going up in smoke for GBPUSD traders. With every hour that passes now without positive headlines and an agreement on the Brexit divorce cost, traders are starting to grow more and more weary of a negative outcome. GBPUSD is weak again as we enter NY trading on headlines that Ireland will be not rushed on the Brexit border text (and may want to add to it). We also heard talk that Theresa May and the Irish PM talked over the phone. Some traders are asking when the deadline for negotiations with the EU actually is. Add to this more rumors of a cabinet revolt for Theresa May and GBP traders are understandably not in the mood to buy. Technically speaking, GBPUSD is now testing trend-line support in the 1.3360-70 region. Theres not much support below here until the low 1.33s. Resistance today lies at 1.3400. Were also hearing talk that option traders continue to hedge next weeks event risk (EU summit Dec 14-15), and we can also see this through the uptick in 1-2week vols.

USDJPY:Dollar/yen continues to track US stocks and US yields lower, but it has found support now. The market has finally filled its Sunday opening gap as we enter NY trading so that magnetic effect is over. Support today 111.90-112. Resistance 112.40-50. We would not be surprised to see a bit of an uptick in USDJPY today, but continue to watch US stocks.
Exchange Bank of Canada (EBC)'s international payment services are supported by its trading desk offering a value-added service clients can leverage in an effort to add value to their firms trading plan.
https://www.ebcfx.com/contactus?utm_medium=partnerships&utm_source=inside-futures&utm_campaign=market-commentary&utm_term=create-custom-plan
---
Market Analysis Charts
USD/CADChart
AUD/USD Chart
EUR/USD Chart
GBP/USD Chart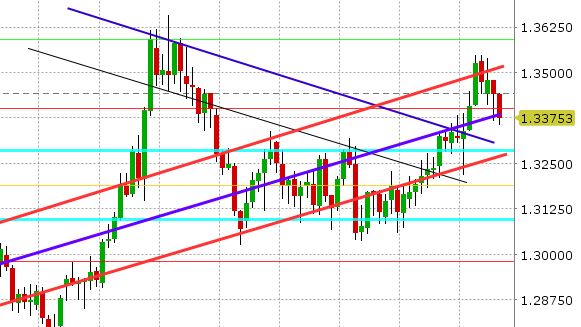 USD/JPY Chart
---
Erik Bregar - Trader
Exchange Bank of Canada
Toronto, Ontario
Phone:647-728-4918
Interested in creating a custom foreign exchange trading plan?
https://www.ebcfx.com/contactus?utm_medium=partnerships&utm_source=inside-futures&utm_campaign=market-commentary&utm_term=create-custom-plan