Summary
USDCAD:Dollar/CAD now sits at critical support in the 1.2660s after another weak NY close yesterday. This level must hold (on a daily closing basis) for any chance of the recent rally to resume. So what continues to weigh on the pair here? A broadly lower USD this week, cross selling from Europe, and yes, higher oil prices. Oil is now on everybodys radar screen again as that market has broken out to the upside and the correlation with CAD improves. One could also make the argument that the Bank of Canadas dovishness and unwillingness to hike rates near-term is priced in. Weve also seen a little shake out of the overcrowded USD short trade (if we look at CFTC COT data), clearing the way for position accumulation again. Despite what fundamental factor one wants to argue, we continue to respect the charts, especially in the absence of key data points. Resistance today at 1.2690-1.2700. We are more concerned about the lack of support below these levels. If this level were to fail combined with a short covering rally in EURUSD and another push higher for oil, we could fall to the low 1.25s in very short order.

EURUSD:So the Euro closed above the key 1.1620-25 resistance level yesterday. This is short-term bullish, however were seeing not much follow through because, lets face it, the market is still quite long from a net positioning standpoint. It seems like we saw fresh longs enter yesterday with futures open interest up almost 8k contracts. The negative tilt to US 10s over German bunds, at +197, continues to support. Option traders note steady demand for EUR calls out to the end of the year and, despite the recent selloff in EURUSD post ECB, risk reversals still show a premium for EUR calls over puts. EURGBP and EURJPY have been quiet overnight.

GBPUSD:Sterling was really the only market moving around a bit overnight. While the UK trade deficit widened a bit, traders focused on better than expected Industrial Production data (+0.7% m/m vs +0.3% expected). This gave GBP a bit of a lift. Were now also getting some Brexit headlines out of Europe (UKs Davis and EUs Barnier speaking at a press conference). Hard to tell yet from the remarks coming out whether this is good news or bad news, but its certainly not horrible (like the last time Barnier spoke recall when he mentioned they were at an impasse). Odds are this GBP move is just a little bit of intra-day short covering. Resistance 1.3190s. Support 1.3130s. A strong close above 1.32 would invite a test of the range highs (1.3280-1.33). GBPJPY quiet today.

USDJPY:Yen traders to watch global equities for the time being. This is evident as USDJPY recovered with US stocks late yesterday. US yields are up strongly overnight but USDJPY seems a little tired here seeing a yesterday originally looked like it was going to be end of the world for longs. Intra-day resistance in the 113.50s has seemed formidable so far today. Support 113.00-133.15. We dont expect much here today unless we get some big moves in equities again.

USDCNH:Were still watching the Chinese Yuan as the chart looks poised to break out to the upside (Yuan weaker). The big news in China overnight was that China will lift financial sector foreign ownership limits.
CME OPEN INTEREST CHANGES 11/9: AUD -1246, GBP +740, CAD +678, EUR +7933, JPY -6510
Exchange Bank of Canada (EBC)'s international payment services are supported by its trading desk offering a value-added service clients can leverage in an effort to add value to their firms trading plan.
https://www.ebcfx.com/contactus?utm_medium=partnerships&utm_source=inside-futures&utm_campaign=market-commentary&utm_term=create-custom-plan
---
Market Analysis Charts
USD/CAD Chart
EUR/USD Chart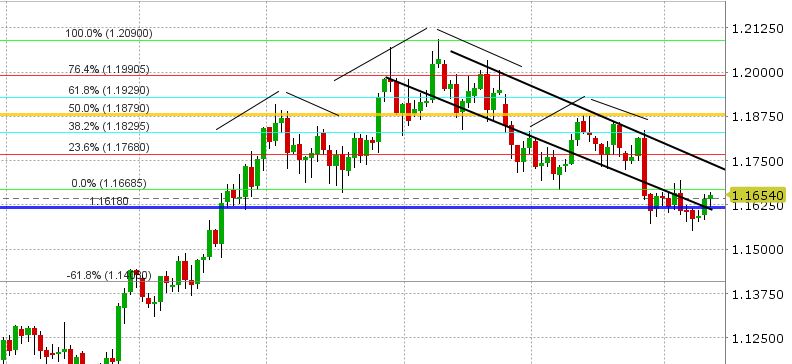 GBP/USD Chart
USD/JPY Chart
USD/CNH Chart
---
Erik Bregar - Trader
Exchange Bank of Canada
Toronto, Ontario
Phone:647-728-4918
Interested in creating a custom foreign exchange trading plan?
https://www.ebcfx.com/contactus?utm_medium=partnerships&utm_source=inside-futures&utm_campaign=market-commentary&utm_term=create-custom-plan