Summary
USDCAD:Dollar/CAD holds true to its new range-bound trading pattern with the lower bound of the upward sloping daily channel providing resistance and the 38.2% Fibo of the May-Sep move providing support (see chart). The 38.2% Fibo also coincides with the 23.6% Fibo of the Sep-Nov rally, which makes the 1.2710-20 level even more relevant as a technical support level. There were no surprises from Stephen Poloz yesterday as he reiterated his cautious tone on monetary policy going forward. The odds of a 25bp rate hike from the Bank of Canada in December is now just 11%. We get Canadian Oct Housing Starts and Sep Building Permits today (markets expecting +217k and -5.5% respectively). Were calling it range-bound to lower again today with EURCAD and GBPCAD sales continuing to provide a negative headwind for USDCAD. NAFTA talks to resume Nov 15.

EURUSD:Euro volatility has ground to a halt as option activity takes centre stage yet again. Today we hear renewed talk of 1.1550 barrier defense and over 2bln EUR notional in expiries between 1.1550-1.1600 at the NY cut (10am). Long story short, odds are the market goes nowhere unless we get some major headlines. US 10s over German bunds holding steady at around +200bp (a negative for EURUSD). The EURJPY chart, as we mentioned yesterday, continues to look weak with the cross down another 50pts today. EURGBP flows, on the other hand, are helping a little bit today as the GBP takes a hit on political concerns ahead of the upcoming Brexit talks. Were calling it range-bound today with the 1.2620s still the key resistance area. Expect short covering from recent shorts if we trade back above there.

GBPUSD:The UK is dealing with a bit of political turmoil this morning as Aid Minister Patels future is in doubt, and for whatever reason GBP traders dont like the sound of that as Theresa May prepares for the next round of Brexit negotiations later this week. Its hard to read much into the GBP move overnight though as were still trading in a range (see chart). Market is testing the lower end of that range (61.8% Fibo of the Aug-Sep move) as we write with the upper bound of the downward channel (on our chart) providing additional support. Be on guard for Brexit headlines Thursday and Friday. A reminder we also get UK Industrial Production and Trade Balance figures early Friday.

USDJPY:Dollar/yen traders are giving up a little bit overnight as US yields continue to tick lower. As we mentioned yesterday, the short JPY trade is starting to get a little crowded and the correlation between the US/Japan 10-yr yield spread and USDJPY went a little out of whack over the last week, so this move overnight is anything but surprising. Market is currently testing support in the 113.40-50s. This coincides with the upper bound of daily channel support (see chart). Option expiries are a factor today as well with $2.5bln rolling off between 113.50-114.00. US tax reform news yesterday was a bit negative, which doesnt help. According to WAPO, some GOP Senators are considering a 1-yr delay before corporate tax cuts commence. Were calling it range-bound to lower here as the technicals weaken further for USDJPY. EURJPY and GBPJPY flows adding pressure too.
CME OPEN INTEREST CHANGES 11/7: AUD +1765, GBP +82, CAD -2894, EUR +1340, JPY 1718
Exchange Bank of Canada (EBC)'s international payment services are supported by its trading desk offering a value-added service clients can leverage in an effort to add value to their firms trading plan.
https://www.ebcfx.com/contactus?utm_medium=partnerships&utm_source=inside-futures&utm_campaign=market-commentary&utm_term=create-custom-plan
---
Market Analysis Charts
USD/CAD Chart
EUR/USD Chart
GBP/USD Chart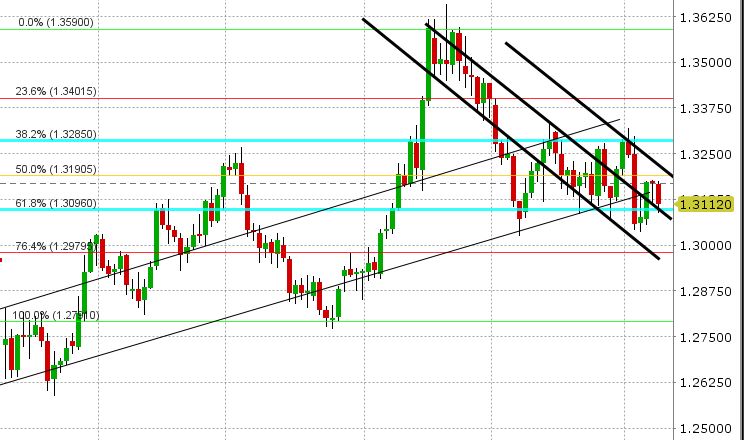 USD/JPY Chart
---
Erik Bregar - Trader
Exchange Bank of Canada
Toronto, Ontario
Phone:647-728-4918
Interested in creating a custom foreign exchange trading plan?
https://www.ebcfx.com/contactus?utm_medium=partnerships&utm_source=inside-futures&utm_campaign=market-commentary&utm_term=create-custom-plan